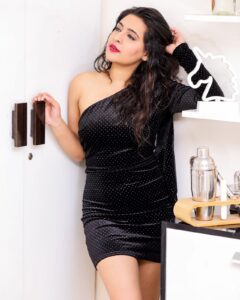 Living my dream Life
Shiny Dixit is an actor based in Mumbai. She has been working in the industry for a long time now. She received a lot of love and affection from his followers and feels humbled. Since the day she entered the industry, she stole millions of hearts, and to keep those hearts beating we are taking you to have a look at the life of Shiny Dixit. Have a look at the interview we had with her;
Q: What attracted you to begin your career as a model and actor?
The art, the cinema, dance, music, all art forms coming together, in one place that's what attracted me to become a part of it and Shahrukh khan' journey inspired me.
Q: How was your family reaction to your career decision?
My dad wasn't ok initially but when he saw the output and saw that I'm doing well, he also became fine with time and started supporting me.
Q: What was your first project as an actor? And what was your feeling
after your first successful assignment?  My First project was Jodha Akbar, I made a cameo in it, the most popular show was Zindagi ki Mehak for me, I was happy after seeing the love I received from people.
Q: When you feel low or have a bad day, what do you do to make it better?
I work out as it releases dopamine or, I eat something amazing.
Q: What do you love to do in your free time?
In my free time, I generally watch movies, as I love learning and I want to brush up my skills, at any given time.
Q: Actors must face criticism. As an actor, do you handle it?
I handle it well as I'm aware it is part of my profession.
Q: How do you manage your health and fitness during a busy work schedule?
I try and diet and I work out early in the morning, around 5 am
Q: What motivated you to keep on doing hard work?
My life and my passion for acting; the feeling of performing different characters is the main motivation,
it keeps me going and pushes me for doing better and better.
Q: How would you describe your relationship with the co-stars you have worked with?
My relationships with my co-stars are beautiful as they were all helpful, everyone around carried a different take on acting and I did learn a lot from my co-actors.
Q: What was your most difficult project, and how do you manage it?
To date, it was Jodha Akbar as it was my first show, and different lingo, and I was so eager to adopt it, as we were shooting far from Mumbai, so travelling took time, I reached late, so I had to get ready and just perform within 25 minutes being so new to all this I managed to perform, and once done, I received claps and love from the people on my set on performing well in the same show.
Q: How has been your journey till now as an actor? Please share your experience.
My experience so far has been wonderful, it is getting better day by day. I'm falling in love with the art form, detailing and loving my job as it's my passion and I'm grateful to God that I got a chance to live my dreams and I could perform, I'm so very grateful to almighty for my magical journey.
Q: What sort of acting roles do you look for?
I like to do inspirational roles, the kind of roles that set a good message in society, and I can be that medium where I entertain and spread positivity.
Q: Can you share something about your upcoming projects?
I can't leak the links but yes there are a few projects which are yet to be released.
Q: Who is your role model in the industry, and what do you like about that person?
To be honest my inspiration has always been Madhuri Dixit, her beautiful smile and her skills makes me go into the aww zone
Q: What is your biggest dream in life?
My dream is what I'm living, and I want to just keep getting better at it and keep doing a crazy performance in India or out of India.
Q: What are your goals? Where do you want to see yourself as an actor?
As I said my goal is to become the best at my skill and perform for great quality, not quantity and be close to a perfect artist in the industry, that can be overseas too.
Q: Anything else you would like to tell us from your side?
Keep believing in yourself and one life; live your real dreams and you will always win if you live your dreams.